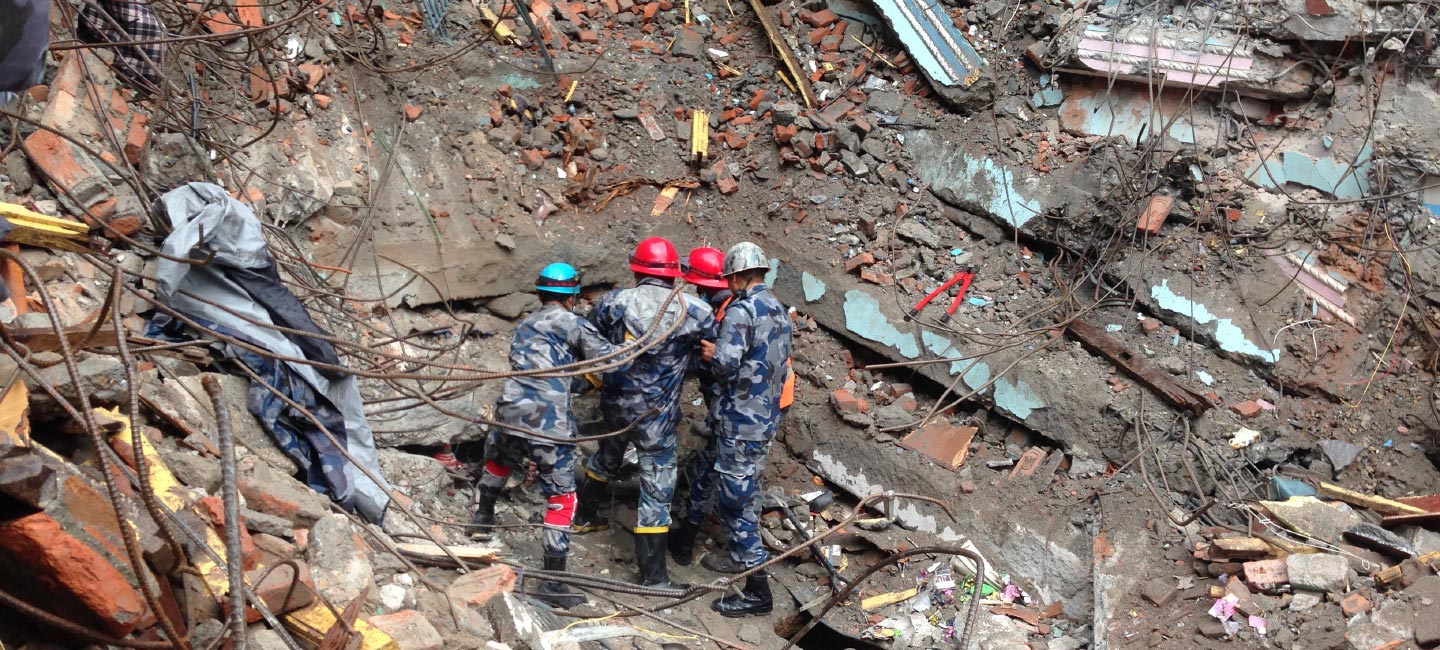 Civilization | June, 2016
TEXT AND IMAGES BY ADAM MCCAULEY
A firsthand look inside the aftermath of the Nepal earthquake.
T
ibetan myth claims the Kathmandu Valley was created by Manjushree, a powerful saint who flew across the water-filled hollow and sliced the spiny Chobhar ridge in two, just south of the modern capital. With his mighty sword he opened this great fissure, allowing the water to funnel away and civilization to begin.
Geological research suggests Kathmandu was an expansive lake thirty thousand years ago. As epochs unfolded, a terrain surfaced, and the receding water unearthed a fertile valley, ideal for human settlement. These verdant plains gave rise to the Licchavi, a kingdom of northern Indian descent, whose kings would build the Pashupatinath Temple and the royal palace of Durbar Square. Later centuries saw the division of Nepal's three kingdoms —Kathmandu, Bhaktapur, and Lalitpur— before Prithvi Narayan Shah, a ruler of the Ghurka people, unified this small nation in 1769.
At 11:56 am on April 25, 2015, a great force ripped through the soft layers of sediment. Its source was not mythical, instead the result of two tectonic plates sliding across one another nearly 15 kilometers below the earth's surface. The tremor shook the small land-locked nation of Nepal for 30 seconds, from the soft valley floor to the peaks of the Himalayas, shifting the earth's crust ten feet.
It's been just under 24 hours in transit from Hong Kong, and I'm dozing off on a Thai Airlines commercial flight-turned-emergency relief vessel—passengers dressed for disaster separated by a handful of reporters and photographers. The pilot breaks the hours-long silence as we enter Nepalese airspace, "We are currently number eight in queue." Three hours later, we land under the haze of light rain and get our first glance of Nepal.
In the 200-meter walk from tarmac to terminal, we pass Chinese, Indian and U.S. military aircraft. The latter, which arrived just hours earlier, lay open with personnel and supplies still littering the runway. Arriving in the hangover of a natural disaster renders one temporarily speechless; my open notebook dampens in the haze of a light rain.
The 7.8 magnitude quake had fractured and tumbled infrastructure throughout the capital of Kathmandu. The night before I arrived, thousands of people—residents and visitors alike—attempted to flee, lining the airport entrance and spilling out into the approaching road. Today, frustrated faces of those who remain are pressed up against the small terminal's glass windows—their eyes alight with hope that the plane we've only just disembarked from would soon be their escape route.
At baggage claim, bags stuffed with tents, dehydration salts and instant noodles fill a conveyor belt struggling under the weight. Beside stacked flats of bottled water are camera and video cases heavily adorned with stickers and logos. Beside them, a disoriented young couple's baby bag and stroller mark an unceremonious return
to their native Nepal.
The airport is the heart of Nepal's disaster response, pumping much-needed resources throughout the country. American medical technicians stand beside consular staff, who stand shoulder to shoulder with Japanese relief workers, all studying the slowly rotating conveyor belt. Behind them, waves of urban search and rescue teams in bright colored helmets and matching uniforms stream down the airport's only escalator into the crush of emergency responders now forming amid the chaos.
In Gortex, flourescence, and often Keen shoes, the groups huddle like professional sports teams waiting on equipment, their conversations consisting of anxious snippets at levels just audible over an impatient and growing din. As team members check their phones for signals and hurriedly thumb arrival messages to colleagues, I'm drawn to a backlit welcome sign in the arrival bay: Are you a tourist? Looking for a Kathmandu Tour? asks the first, with sunny photographs of Pashupatinath Temple, Boudhanath and Bhaktapur.
Only one of those three sites survived the earthquake unscathed.
"Everything is crooked." I write on my first night on the ground, while walking the broken streets of Kathmandu. Near one of the city's teaching hospitals, in a neighborhood called Baluwatar, I stumble across the skeleton of a five-story building, its innards spilling into a street filled with responders.
This building had housed a tax office, a fruit market and a tea shop. Just yesterday, police and rescue workers extracted six dead bodies. Now, crews are still there scraping and bending the piled debris with an industrial backhoe. Locals stand off to the side in silence, some because the last text messages sent by their loved ones lead them back to this mound of mangled office chairs and half-buried binders.
From behind the caution tape, my gaze falls upon a pile of brick and splintered wood denting in the roof of a car it had fallen upon, killing a passenger. The impact had bent the chassis with unthinkable force. As the dusk fades to darkness, I come across a dog, unseen but unsettled, baying endlessly—longingly—into the anxious night.
By morning, I'm traveling to Bhaktapur in the back-seat of a van organized by the United States Consulate, following the US Disaster Assistance Rescue Team (or DART) on one of their daily reconnaissance patrols. We pull into the ancient village—a former seat of the Newar King—and understand the term exacting damage. The Vatsala Durga Temple, built by King Jagat Prakash Malla (debated as 1672 or 1727), has been reduced to a pile of stones in the town square. Nepal's tallest temple, Nyatapola, lay in pieces; its sculpted guardians, fused to the simple stone staircase, are all that remain.
Ducking underneath low-hanging electrical wires, I climb through countless debris-filled trenches and narrow alleyways. Every few steps I glimpse corners of a scarf, a book, a utensil. I come upon residents digging free these very fragments of everyday life, after days without assistance. The DART team members, structural engineers in tow, scour available sight-lines for evidence of voids: pockets within collapsed buildings where the living might survive for days. "There are always miracles," Mike Davis, an urban search and rescue team leader for DART, told me earlier that morning. "This isn't so much science as it is an art."
Residents and experts insist the worst structural damage has occurred somewhat paradoxically in the country's oldest and and newest construction: older structures lacked earthquake proof designs, while some of the newer had been hastily constructed with little regard for safety codes. As a result, rescue and recovery teams have spent hours trying to ensure their patrols are effectively targeted.
I walk the rubble with Sajan Timilssina, 30, who says he has counted 50 friends and family members among the missing. He speaks of the hidden impact of the temblor: the price of tents and basic food supplies had doubled in the 24 hours following the quake. Timilssina is heavy-set, his deep voice tinged with anger and disbelief. He breaks the flow of conversation often, asking—as if to some power beyond these shattered streets, How can this happen to his city? Of course, there are many people—from seismologists to development and disaster relief workers familiar with the geological underpinnings who knew an earthquake like this was not a question of if, but when.
Nepal sits on a terrible crack, one of the worst on the planet: a trough of soft silt directly above the young and active Eurasian and Indian plates. Their fault lines traverse most of Kathmandu Valley's floor, making it vulnerable to the earth's instability. Therein lies Nepal's prolific history of high magnitude earthquakes.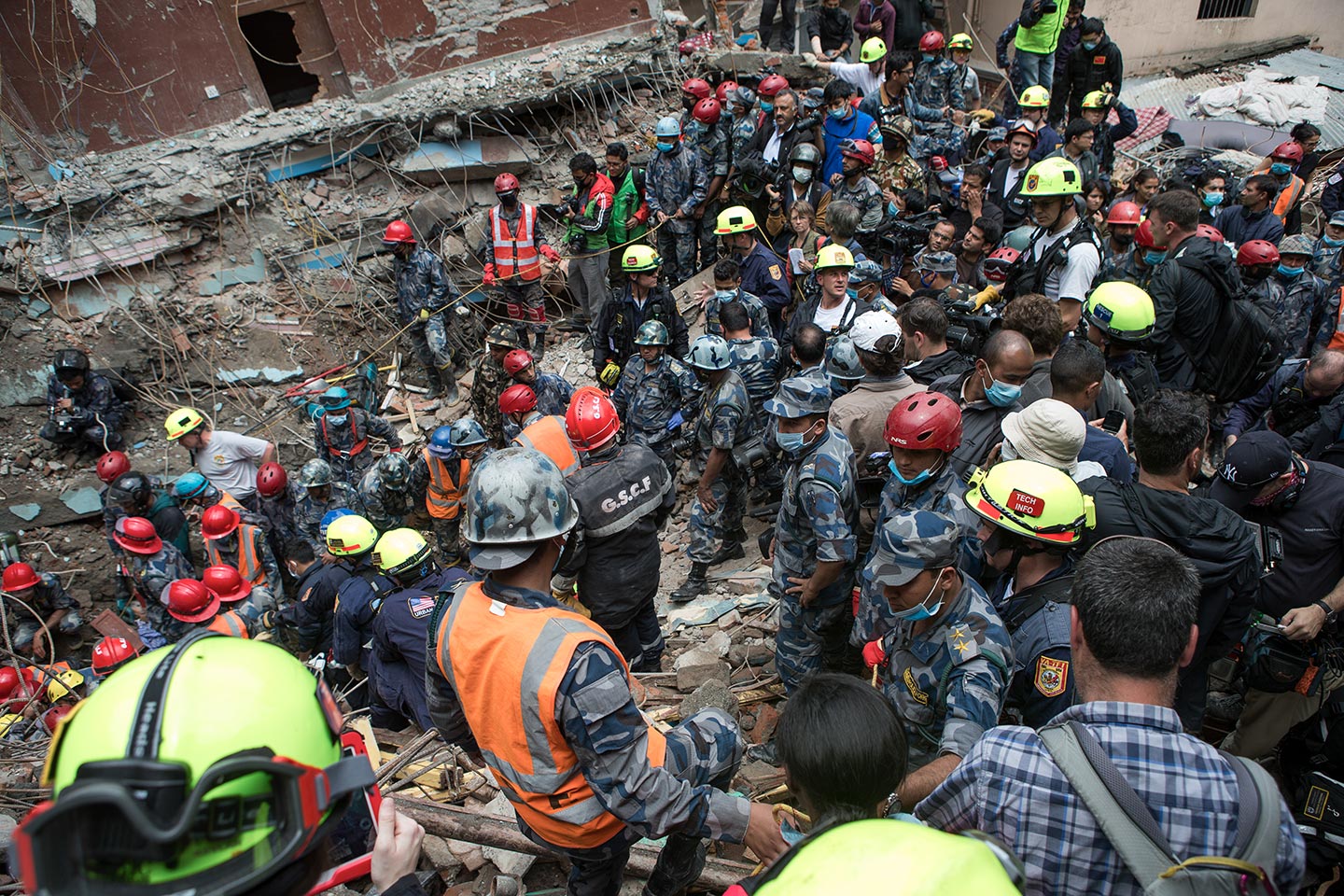 In 1934, an 8.4 magnitude quake killed more than 16,500 people and damaging 318,000 homes. In 1988, a 6.9 quake killed 721, injured 6,500 more, and destroyed just under 65,000 structures.
For any given year, there are roughly four earthquakes in excess of magnitude 7.5 worldwide. According to the U.S. Geological Survey, larger earthquakes can have "larger rupture surfaces" which radiate something called "long-period energy". In these quakes, like the April 25 shock, the earthquake's energy is spread over more time, reducing the violent shaking that often shatters foundations and topples structures.
But April's earthquake was different: the disaster showed the "tremendous disparity in the lethality of earthquakes," Brian E. Tucker told The New York Times. Tucker runs GeoHazards International works with officials in Kathmandu in conjunction with his other NGO, National Society for Earthquake Technology-Nepal, to improve build characteristics of schools and hospitals, steps that maybe able to curb the average death toll in an earthquake from tipping into the tens of thousands. Whether referring to the laws that control how buildings are constructed, or how city services are organized, Tucker's implication was that the true damage of an earthquake is not tied to seismic measure, it is intimately related any country's persistent weaknesses.
Published estimates claim 75 percent of Kathmandu's buildings were destroyed or deemed unsafe after the 7.8 magnitude tremor. In addition, 60 percent of heritage buildings had also been badly damaged, according to Nepal's UNESCO chief Christian Manhart. According to the Nepalese government, post-quake reconstruction would cost more than 10 billion dollars and experts warned the number of deaths might climb to the tens of thousands. By that Tuesday evening, three days after the nation shook, the number was 4,800, with more than 9,200 injured.
But none of this was a surprise, either.
In a report authored by GeoHazards International in 1997, experts noted the "seismic record of the region, extending back to 1255, suggests that earthquakes of this size occur approximately every 75 years" and that a devastating earthquake is "inevitable in the long term." This event was already written.
Five days after the quake, I'm standing outside Kathmandu's American Club scanning a sea of climate controlled tents fanned out across what was once the club's baseball diamond. Two American flags hang from the chain-link fence. Team members roam freely through the dawn, refilling cups with coffee and picking out their day's MREs.
I stash peanut butter and pretzels into my bag and set out in a smaller convoy with a canine recovery team on loan from the Los Angeles County Fire Department. When working abroad, the team is known as USAID Disaster and Relief Team, or DART, and are specifically equipped for assessment, urban and rural search and rescue.
We make a roadside stop to survey the debris of three collapsed buildings just off one of Kathmandu's ring roads. Over the pile of rubble in front of a building precariously pitched forward at 21 degrees, the US team is walking their live scent dog, Ripley, when the call comes in.
A live victim had been found five blocks away.
Abandoning his vehicle, Andy Olivera—another urban search team leader—starts to jog. I follow, turning a corner into yet another landscape of destruction: some buildings had collapsed fully, others simply hung precariously over a dense pile of heavy debris.
In a pit that lay between the remains of two buildings, a crowd of Nepalese police had gathered around a small, dark opening: a space of inches between what had once been floor and ceiling in the seven-story building.
Off to the side, four Nepalese police were standing in a deep pit, straining to look into a narrow gap between two concrete slabs. Six days earlier, these concrete slabs had been the floors and ceilings of a seven-story office building.
Wedged between these layers, a young man had been trapped, his own body saved by a nearby motorcycle which had been caught in the collapse. The motorcycle had braced the collapsed roof, creating one of the coveted void spaces rescue teams had been searching for during the week's patrols. In those moments, void spaces seemed little more than a euphemism for hope in a country of ruins.
Workers and rescuers flood the scene. With each team comes more material—water, power saws, back braces, battery-powered lights—even glow sticks brought in by the DART team. Some Nepalese policemen fumble with the pink and yellow phosphorescent sticks, trying to cut them in order to light them up before their American counterparts intervene in an unexpected moment of levity. Meanwhile, photographers and reporters crawl over one another on the precarious debris for better angles and new details.
Hours later, Pemba Tamang, 18, is pulled from the four-foot crevice, his body caked in red-dust. He is dehydrated and disoriented, and repeatedly asks for juice. His survival owed as much to chance as to the myriad relief teams who cut through re-enforced concrete, dulling industrial blade after industrial blade, in a race against against time.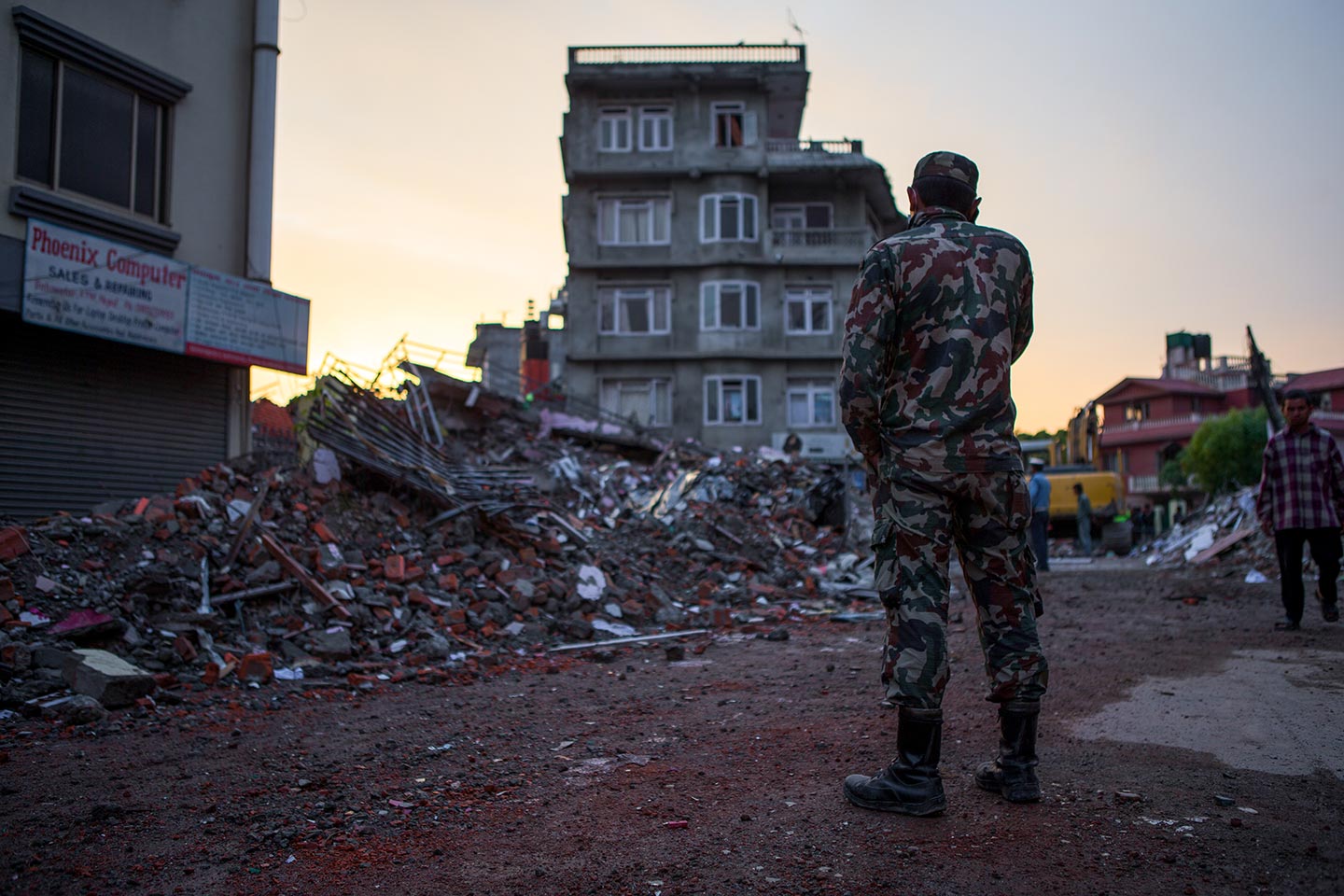 The rescue team carries him towards a waiting ambulance while a crowd of several hundred native Nepalese gather street side, cheering and clapping for both the rescued and the rescuers. In front of local media, the police chief is hoisted onto shoulders in a fleeting spirit of triumph, before returning to the hard work.
"We had a really good day," Bill Berger, head of USAID DART would tell a room of reporters that night. During the seven days following the earthquake, 50 urban search and rescue teams from 23 different countries would pull 16 survivors and another 179 bodies from the wreckage. These were small victories, but victories nonetheless.
On my last day in Kathmandu I decide to return to the waters of the Bhagwati. Acrid smoke stings the back of my dry throat. This river slows to a crawl as it passes the Pashupatinath Temple, and I stand watching flecks of ash, particles of the once-living released by their beloveds, floating across the warm winds, a few flakes catching on my arm before continuing their drift. I commit a few thoughts to the page, concerned for a moment I might forget this.
Goats walk the riverside
Spare bricks crowd the footbridge
Bodies wait in garbage bags
They drop the fire into the mouth first.
Without sleep, the caffeine-fueled focus of recent days is starting to falter. I become aware of the sun's scratching heat on my bare neck and I want to feel still in a place made nervous by sudden movement. My eyes drift downstream to the scurried activity, the din of an amassing crowd, and the light reflecting off strange new naked bodies.
(Visited 410 times, 1 visits today)