Civilization | june, 2016
TEXT & IMAGES BY CHRISTOPHER DEWOLF
Inspired by American media, the cornerstones of Hong Kong's vibrant street food scene are disappearing in the wake of a Westernized food truck trend.
S
treet food has become the latest political fault line in Hong Kong, nearly two years after the birth of the Umbrella Revolution, the pro-democracy movement that occupied the city's streets for 79 days in 2014. On one corner, you may stumble across a vintage food truck selling dry-aged steak and ale pies for the cost of lunch in Los Angeles. On the opposite corner, an itinerant hawker sells a bowl of fish balls for a tenth of the price, at the risk of imprisonment.
In his 2015 budget speech, the city's financial secretary, John Tsang, announced a plan to legalize food trucks, which so far have been limited to festivals and other private events. Tsang was reportedly inspired by Chef, Jon Favreau's 2014 movie about a beleaguered restaurant chef who reinvents himself by selling Cuban sandwiches from a food truck. Tsang's enthusiasm was shared by local restaurateurs whose menus already reflected the food truck ethos of the United States, featuring kimchi burgers and tacos made with Cantonese barbecued pork.
While it may be an innocent enough agenda in most Western cities, Hong Kong's traditional hawkers see this as the death of their livelihood. "This will just end up helping the chain restaurants or big companies as a marketing ploy," said one hawker, Chan Kong-Chiu, after Tsang's speech. "We may never see those licenses."
Hawkers have reason to be cynical. When the details of the government-funded food truck pilot program were finally released last December, it revealed that the trucks would be restricted to a handful of tourist-friendly locations, and each would benefit from estimated startup costs of HK$600,000 (US$77,000), to cover license fees and detailed design specifications.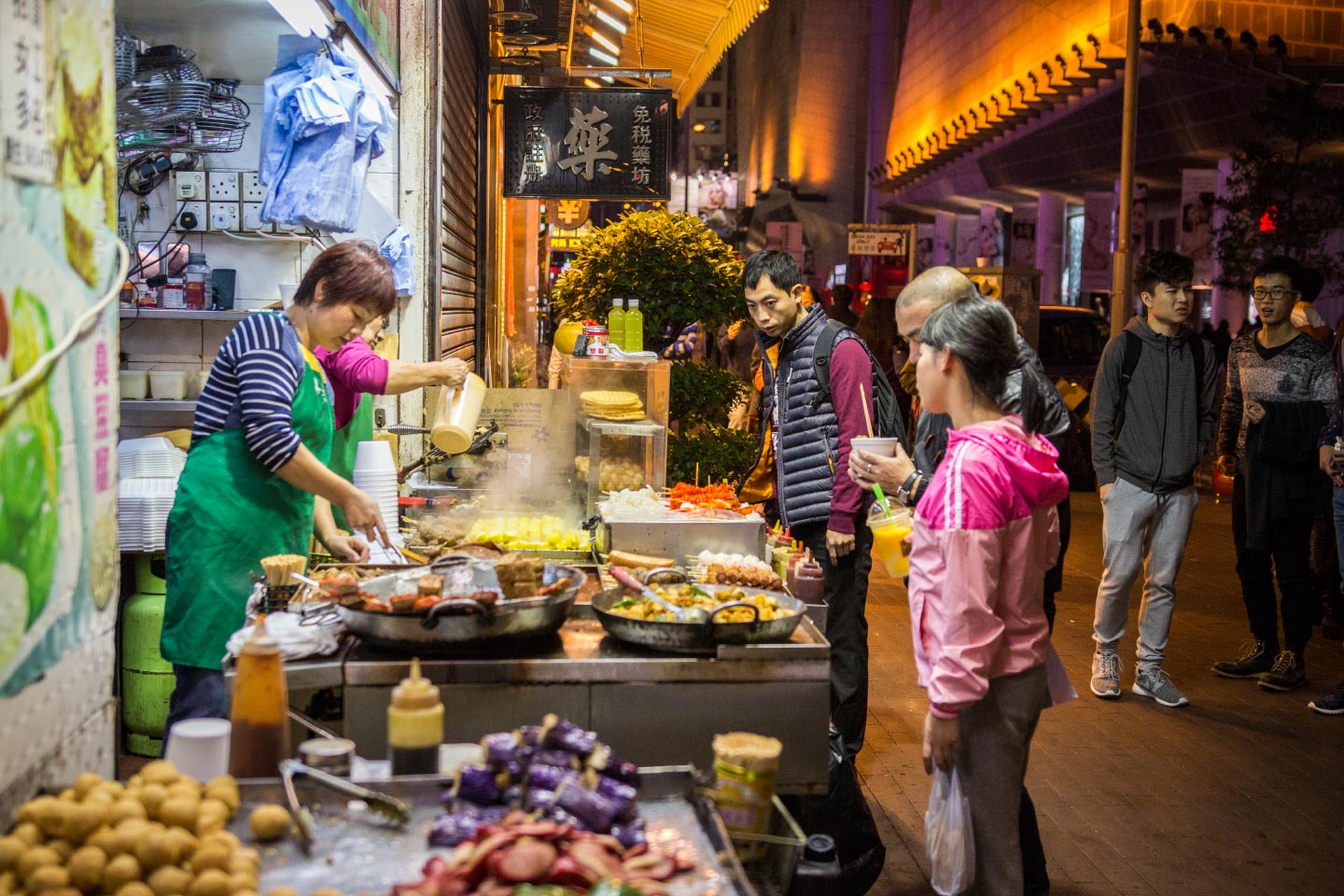 Meanwhile, traditional food vendors have found themselves in the middle of pitched battles between activists and police. A few days before Tsang's speech in 2015, hawkers selling Chinese New Year snacks in Sham Shui Po were chased away by swarms of government inspectors and police. They found shelter in busy Mongkok, where democracy activists shielded them from police. Thousands of people thronged the food stalls until four o'clock in the morning.
At the start of 2016, things took a turn for the worse. When government inspectors tried to clear an illegal New Year's market on Portland Street, they were met by a crowd of angry activists. Police arrived in riot gear, prompting an overnight confrontation that has been dubbed the Fishball Revolution. Activists tore up sidewalk bricks and threw them at police—some of whom hurled them back into the crowds. At one point, a police officer fired his service weapon into the air—a shocking turn of events in a city where guns are few and far between. By the time the battle ended 10 hours later, nearly 100 people were injured, including police, journalists and protesters.
Hawking wasn't always a blood sport. Street food has always been a part of Hong Kong's culture and economy. In the 1950s, when hundreds of thousands of refugees poured into the British-controlled city from Communist mainland China, running a food stall was one of the best and only ways to make a living. Wooden pushcarts and green-painted roadside shacks pioneered a new kind of fusion cuisine: curried fish balls, stewed offal, chewy egg waffles, noodle soups and rich milk tea that gave heart to factory workers, longshoremen and manual laborers.
"Back in the day, there was food everywhere," says Edmond Ma, the second-generation owner of Keung Kee Dai Pai Dong, one of the original 1950s-era street food stalls licensed by the government. "The food culture was so lively. The only issue was hygiene. People left their rubbish on the street."
By the 1970s, it was enough of a problem that the British colonial administration decided to crack down. In 1973, when there was one hawker for every 80 people, the government stopped issuing new hawking licenses. In the 1980s, it began to buy back those licenses. Today, there are fewer than 7,500 licensed street hawkers, most of which sell dry goods and groceries. Another 3,000 ply their trade without a license.
At the same time, Hong Kong's shift to a post-industrial economy has led to stagnant wages and economic forces at play, engendering worsening inequality and a job market dominated by finance and real estate. An influx of tourists from mainland China has pushed up retail rents to mind-boggling levels, driving many family-owned restaurants and shops out of business. Meanwhile, food prices have doubled since 2007.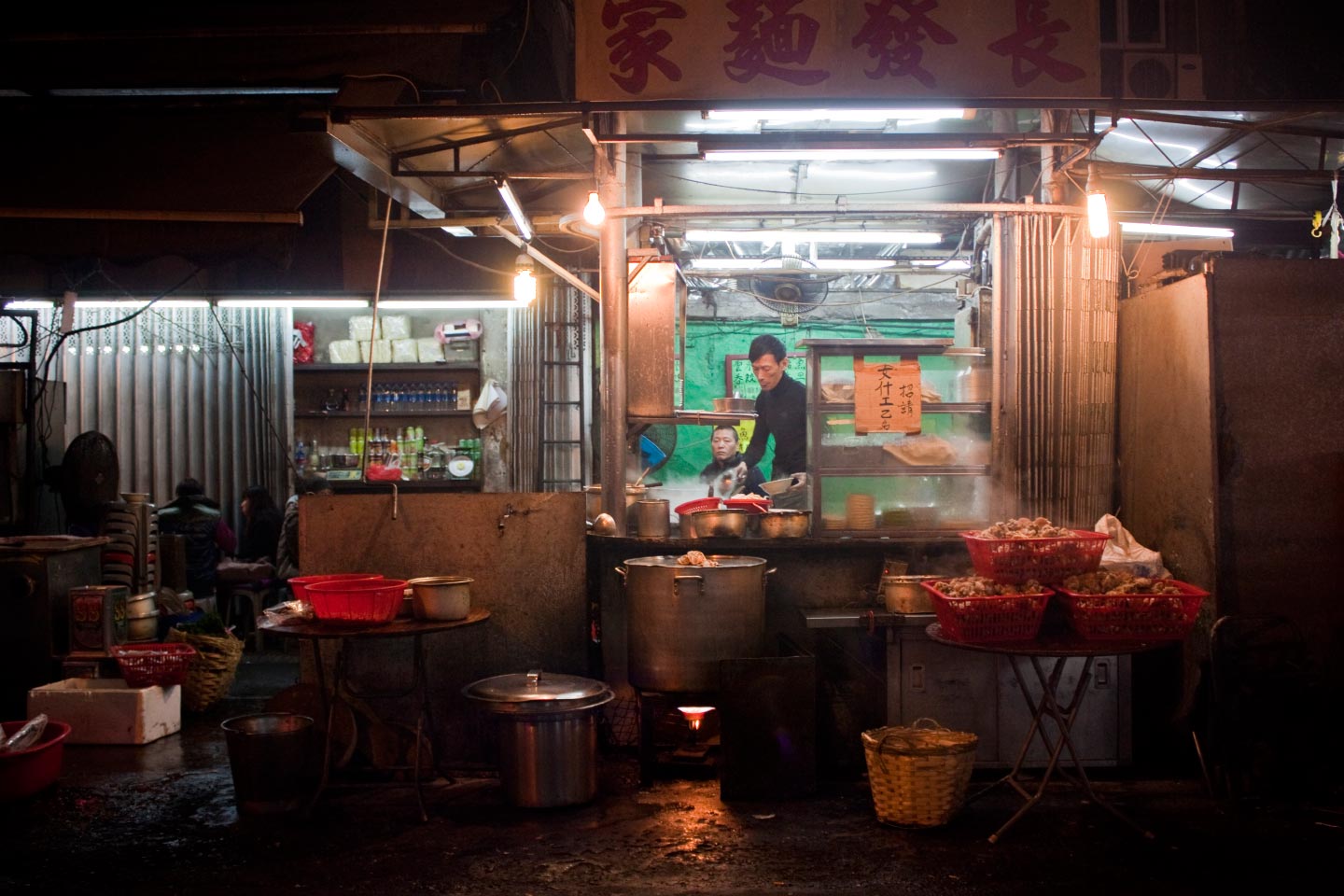 Ironically, many of the poorest parts of the city—far-flung new towns built in the 1970s and 80s—have the most expensive food, thanks to the dominance of conglomerate-owned chain businesses. In response, illegal street hawkers sell everyday items at a discount, always on the lookout for hawker control officers who tolerate them on some days and arrest them on others. It's a game of cat and mouse that has in one case proven deadly: in 2006, a 65-year-old Chinese herb vendor named Lo Kong-Ching drowned when he was chased by officers into a river.
Chinese New Year is the only time of the year when unlicensed merchants are given a reprieve. Streets fill with the savory aroma of barbecued meat and charcoal-fired fish ball carts. Many of the vendors are young people earning entry-level salaries that haven't budged in decades, says Kel Lee, a recent graduate from the Chinese University of Hong Kong. "For years, the wages for university grads is the same, about HK$10,000 – HK$12,000 a month [about US$1,300]. Nowadays a cart costs less than HK$10,000, so they can sell fishballs during New Year and earn a lot of money."
Lee is a member of HK Indigenous, a so-called "localist" group dedicated to livelihood issues that was founded during the pro-democracy protests in 2014. Over the past year, the localist movement has grown unexpectedly powerful, drawing condemnation from Beijing but surprising support at the polls—one localist candidate earned 15 percent in a recent by-election, a remarkable turn for a group that had until recently been dismissed as fringe extremists.
The support reflects a shift in mentality among young Hongkongers, many of whom see Hong Kong, not China, as their home. In 2014, when the Chinese New Year hawkers fled to Mongkok, Hong Kong indigenous activists didn't just protect them from police, they helped clean up the street to set a good example. "We were patrolling the area, sweeping, cleaning, tidying up the street," says Lee. "The government tries to say the hawkers are dirty, but we showed they aren't. The environmental issues can be managed."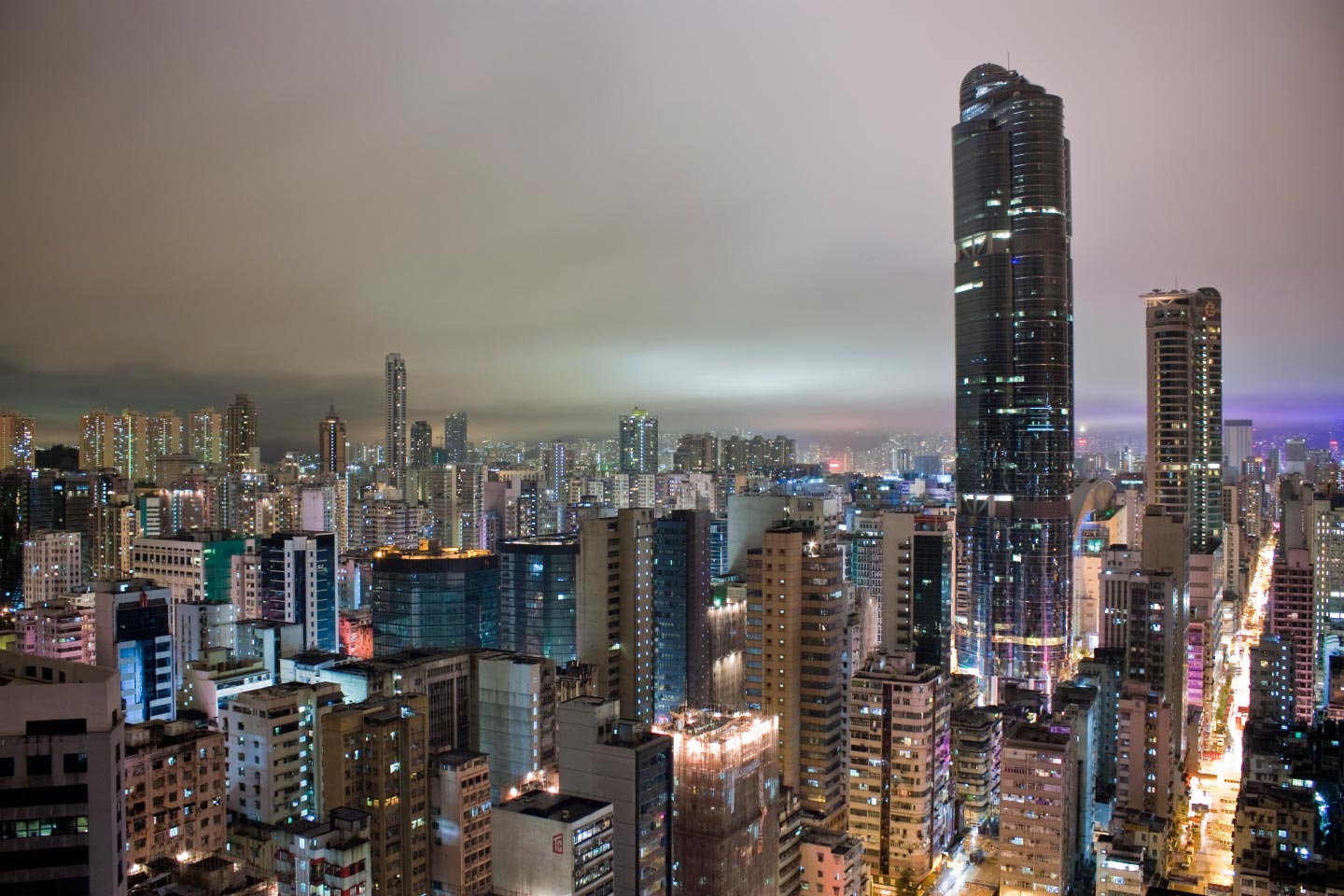 It's part of what Lee calls the "Lion Rock spirit," a reference both to a local mountain peak and a 1970s-era TV show, Below the Lion Rock, that depicted the lives of Hong Kong people lifting themselves out of poverty. "If you work hard, you'll have the opportunity to move up, and hawker culture is part of that spirit," he says.
So far, the government hasn't done anything to dissuade the notion that food trucks will help established interests instead of the poor. Introducing food trucks "is not the same as reissuing hawker licenses," said Hong Kong's secretary for commerce, Gregory So. Official policy still calls for the eventual elimination of street hawking.
Meanwhile, Edmond Ma's Dai Pai Dong has outlasted all of the buildings on his street in Sham Shui Po, which have been torn down one by one for redevelopment. Standing over a vat of steaming fish broth, he says food trucks could be a trojan horse to reform the government's approach to hawkers. "If people keep it clean, everyone will benefit," he says.
And if they don't? He shrugs and glances around at his stall. "We'll still be around."
(Visited 1,256 times, 1 visits today)